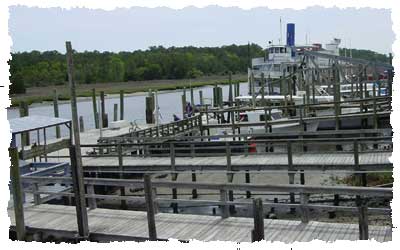 Every year in mid-May, locals and visitors are drawn to the waterfront in Little River to enjoy a carefree day surrounded by the people, music, food, and arts and crafts of the annual Blue Crab Festival.
But Blue Crab only comes one week-end a year, in May... so what to do every other week-end in Little River?
There's always the beautiful, historical Vereen's Memorial Gardens, with its new CB Berry Community Center that held its Grand opening May 1, 2008.
You can also golf at one of the Little River courses, or take a charter fishing trip with one of the local fishermen, or just fish off the docks at the waterfront.
There are many quaint shops in and around Little River, or you can dine at one of the friendly local restaurants.
You can also try your luck at winning on one of the Las Vegas style casino gambling boats, or rent jetskis and play on the Intracoastal Waterway for the afternoon.
If kicking back and relaxing is more your speed, you can sit on the deck of one of the waterfront restaurants and wave to the jetskiiers, fisherman, casino boats, and boaters as they go by...
For a taste of local flavor that doesn't come from the sea, La Belle Amie Vineyard is located on Highway 90 in Little River (just a short drive from the waterfront). La Belle Amie regularly hosts wine tastings, vineyard tours, and concerts with live local bands all year long.
And every year the Saturday after Thanksgiving the Intracoastal Waterway Boat Parade starts in Little River and ends at Vereen's Marina in North Myrtle beach.
People fill the waterway businesses and homes to see the holiday decorations on various boats and to donate toys for needy children.
Little River has certainly grown right along with the rest of the Grand Strand, and for both locals and visitors, there's now more activities and fun things to entertain you and your family than just the annual Blue Crab Festival.